Direct Response™ is the Fulfillment First software of choice for service providers seeking best in class features, user interface, and stability. Our staff of industry experts and top level developers are dedicated to the complete software implementation, training, and support of your fulfillment business.
We know that a robust software solution is the heart of your customers' supply chain and your success in fulfillment. Direct Response™ empowers you to tackle modern fulfillment challenges, gain a strategic edge on your competition, and exceed your customers' expectations. We offer exceptional software designed as a turn-key solution, built in the cloud, and entirely SaaS (software as a service). The financial result is a cost-effective platform that will reduce your TOC (total ownership cost) on a continuing basis.
If you are ready to take a deeper dive with one of our team members or have questions, simply request a demo.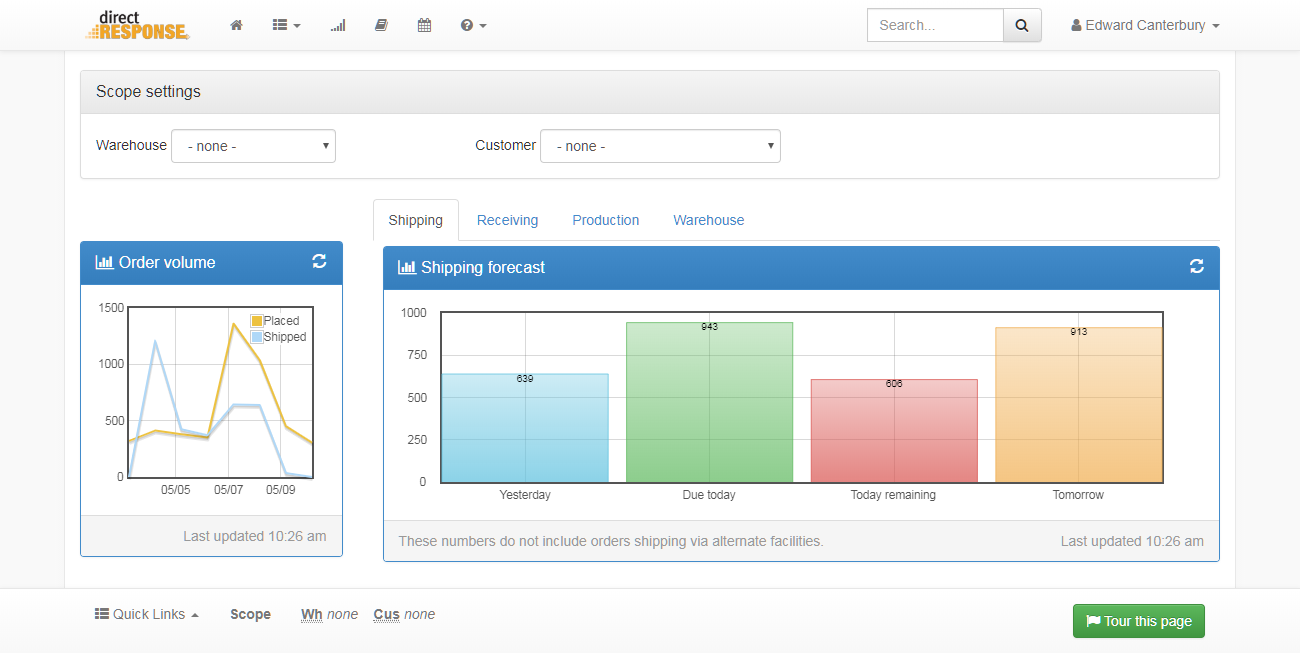 Click to enlarge
Explore Direct Response™ Features
Direct Response™ is engineered from the ground up specifically for fulfillment. Designed to be user friendly, integrated, and flexible, meeting the requirements for efficiency and increased workload. Discover some of the key features of Direct Response in the gallery below.
---
Our Process
The Direct Response team is committed to being your partner in success. We take pride in our 3 part process to profile, implement, and service your account on an ongoing basis.
Evaluation - Our commitment to excellence begins with understanding your company's history, where you are in your Fulfillment journey, and what we can do to improve your workflow and customer interaction. In this phase we focus on addressing the immediate and future technical and business service needs of:

Your team
Your operation
Your customers

Implementation - Our support team will work continuously with your key fulfillment staff to ensure a confident rollout of Direct Response™ to your operation and your customers. Your technical, production, and support staff need to feel prepared to transition to a new fulfillment platform.
Support - We pride ourselves in providing best in class support. Our staff can assist with standard software support & troubleshooting, integration demands, and evaluating customer technical & business process requests. By nature, fulfillment is a challenging environment. Your staff should not feel alone on this adventure.
Our Promise
The staff of Direct Response™ is dedicated to being trusted partners to our customers. We understand that every day opens new challenges for fulfillment service providers. Our process, talent, and technology are the tools we offer to meet these challenges and empower our customers to manage their fulfillment business with confidence. We promise to deliver the tools and support that will provide advanced, secure, and user oriented solutions required for their success.
Our Customers
Who uses Direct Response™?
Our customers are businesses requiring multi-tenant software to manage the modern Fulfillment center's operational and service demands: warehouse control, order management, reporting, customer transparency, and complex B2B & B2C applications.
These businesses include:
Commercial Printers
Fulfillment Centers
Marketing Support Providers
Warehouses
Our customers routinely create long lasting service relationships utilizing our software and support . Here are just a few of the accounts that our customers support with Direct Response™.







Partners
Direct EDJE is committed to providing you the best in class products and services, and part of that commitment is to strategically align ourselves with other companies who hold these same values. As the platform of your success, Direct Response™ facilitates customization and integration at all levels and our partners have worked closely with us to ensure they can provide you with outstanding solutions.
Global Reach has become a leader in custom web development. They are well versed and capable of customizing of Direct-2-Shop store fronts to exceed the expectations of our customers. They always take pride in their work and pull out all the stops when it comes to meeting our customers' goals.
PageDNA increases sales, decreases operational costs, and leads to more profit for your print sales organization. PageDNA does this by providing a web-based digital storefront solution, coupled with job management and reporting tools. Working closely with Direct EDJE and using the standard cXML integration PageDNA provides for a seamless print-on-demand integration with Direct Response™.
ShipStore allows you to get rid of the complex process of parcel and LTL shipping and bring your whole process under one, headache-free solution. Using the Direct Response™ API, ShipStore provides a seamless and real-time integration.
About Us
The people and personalities behind Direct Response™ have been assembled to back our promise of being a dedicated partner. The team is ready to implement and support your needs from technical to operational assistance, and all points in between. We don't just build best in class software, we KNOW fulfillment!
Our Team
---
Andrew Constantinou
Chief executive officer
---
Edward Canterbury
Chief technology officer
---
Jason Marx
Senior system developer
---
Vanessa Marx
Senior support specialist
---
Joshua Moore
Chief information architect
---
Our Story
---
In early 1998 Andrew Constantinou set out to revolutionize the fulfillment software industry. His own frustration with existing antiquated and expensive software inspired him to bring together Joshua Moore and Edward Canterbury to design and build Direct Response™. Six months after setting forth this directive, Direct Response was launched. Delivered entirely online, it immediately became the first 3PL and fulfillment software to do so. Along with a number of other innovations pushing the current technology to the limit the Direct EDJE team continued to enhance and refine Direct Response™.
Still under the guidance of Andrew Constantinou and his decades of experience in the industry the team incorporated more features and capabilities and continued to align itself as the best of the best for all manners of fulfillment operations. Ever watchful on industry trends and facing the challenges posed by some of the most complex fulfillment operations Direct Response™ earned it's place among the most versatile and feature rich 3PL fulfillment software packages in existence.
The Direct EDJE team never relented in it's continued journey to revolutionize the fulfillment software industry. Today Direct Response™ is the only SaaS 3PL fulfillment software that is aligned directly as a fulfillment platform, enabling the heart of fulfillment operations to beat strong within supply chains around the world.